GIYOU silver and golden flowers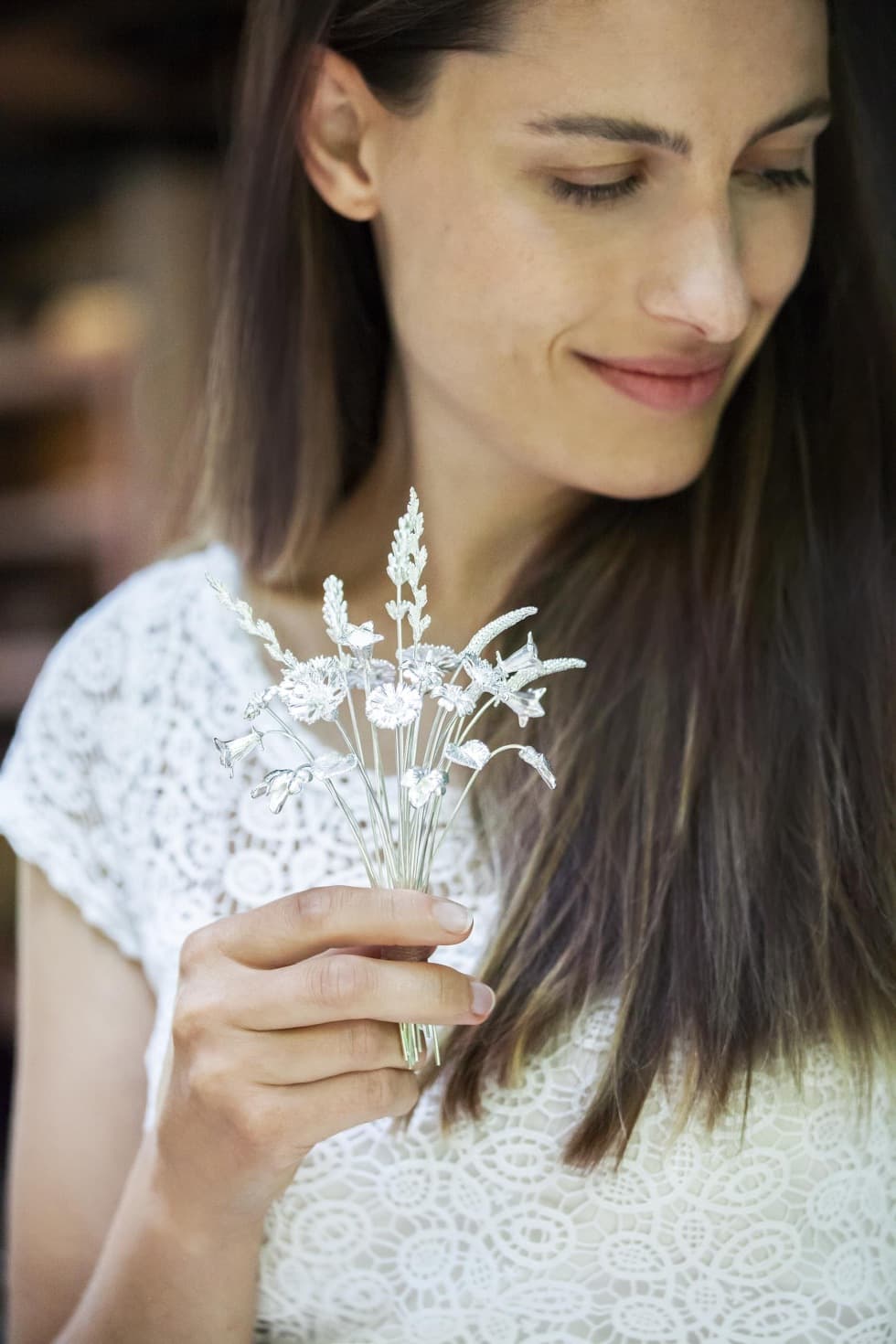 Value of unique beauty
Extraordinary gift
Beautiful decoration in a vase
Generational value
Flowers for you
To give joy just like fresh-cut flowers do, as a gift for a woman, to decorate your home, put in a vase, create a family generation vase, celebrate an anniversary, engagement, wedding, Christmas, and other holidays, for gradual collecting, as an extraordinary gift
Inspired by flowers from one garden
Located at a charming historic place in Bohemia
One of a kind
Likely the only available silver and golden flowers of this form and use
Family jewellery-making business
Unique design and precise manual jewellery-making by a Czech family business. Silver of 925/1000 fineness, gold of 585/1000 fineness (Au 750/1000 or 999/1000)
From the manufacturer of the globally unique bouquet of 118 flowers of pure gold
Likely the most valuable golden flowers made in the modern era
Customer support, showroom, store
Personal customer support, option to order flowers online or inspect them at our showroom or store at Jungmann Square in Prague
Custommer support

Emal: info@giyou.cz
Tel: +420-775-555-531
Mon-Fri 9 am - 6 pm
Showroom
Saky 3 273 08 Trebichovice
Mon-Sun: 10 am- 6 pm
please contact customer support to arrange a visit)
Store GIYOU GARDEN
Jungmannovo Sq. 765/5
110 00 Prague 1
Mon-Sat: 11 am- 7 pm
Tel: +420-776-181-149
How am I supposed to pick from so many beautiful flowers?
Pick one or multiple flowers or a bouquet from our range, depending on your taste
Create your own custom bouquet, consisting of any number and flower species you like
You can also pick a vase to go with your flowers (Rosenthal, Sugahara, or one from our personal collection)
Visit our showroom, store, or contact us (info@giyou.cz, +420-775-555-531). We'll be glad to help you
How are the flowers made?
Živý druh květiny studujeme, vybíráme, jako ho ztvárnit, skicujeme. Pak vytáříme její voskové modely. Pak se práce přesouvá do šperkařské dílny, kde probíhá výroba s mnoha kroky. Stříbrné květiny galvanizujeme stříbrem vysoké ryzosti pro udržení jasu po dlouhou dobu. S květinami zacházíme ve speciálních rukavičkách, aby se k vám dostaly v nejlepším stavu.We study the actual species of flowers, decide how to portray it, and sketch it out. Then we make wax models. Here's where the jewellery-making part comes in, entailing many production steps. Silver flowers are galvanised, using silver of high fineness to make sure the metal stays bright for a long time. The flowers are handled with special gloves so that they reach you looking their best.
How do you ship the flowers?
We ship the flowers to Czechia and online almost to the entire world. You can choose a shipper of your preference. Orders in excess of 4000 CZK include free shipping. Shipping is insured and safe. If your order is highly valuable, we'd be happy to deliver it in person. You can also pick your flowers up in our showroom or Prague store.
What are the flowers made of?
The flowers are made entirely of silver (925/1000) or gold (585/1000). Custom orders can be made of finer gold (750/1000, 999/1000). We don't use any other materials.
Do you offer gift wrapping?
The flowers are sent in an original gift box, with a card and certificate.
Personal customer support
Directly from the manufacturer
Follow our story, news, and events